About the HiPP Company
An Introduction to HiPP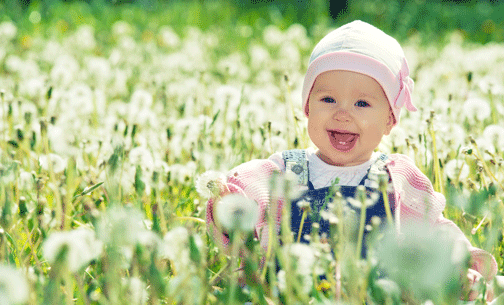 For more than a hundred years, the HiPP family has been creating the highest of quality natural foods. HiPP Organic is the only complete range of organic formula milks in the UK, using the finest EU organic ingredients, and providing the nutrients babies need to grow strong and healthy when they are not being breastfed or ideally, in tandem with breastfeeding when needed.
In the 1800s, because his wife had trouble breastfeeding their twins, Joseph Hipp produced the first rusk flour for children, selling it in his bakery to mix with milk to bake biscuits, one of Europe's first baby foods. J. HiPP's success soon spread and the black-yellow branded flour laid the foundation for the creation of a factory in 1899 in Oberpfaffenhofen Germany. His son George sold the increasingly popular product in and around Munich from door to door, and in 1932 founded his own company.
In 1956 Georg HiPP opened the doors of the Oberpfaffenhofen, creating nutritious 100% organically farmed foods cultivated with organic soil as an industrial production. A meeting with the Swiss farmer Hans Müller, a pioneer of bio-organic farming, inspired Georg HiPP to begin the organic production of fruits and vegetables. In 1967 at the age of 29, Claus Hipp took over the reins of the family business and still today serves as acting president/partner of the company.
Today HiPP maintains a network of more than 6,000 contracted organic farmers, involved in various countries for HiPP in the production of organic fruit, organic vegetables, and organic meat. HiPP stands are the world's largest processors of organic-biological raw materials. Under the leadership of the three family brothers Claus, George, and Paul Hipp, HiPP Baby food has become one of the most popular brands in Europe. The brand is symbolic of a management approach characterized by ecological, economic and social sustainability. "The best of nature.The best for nature" is the standard by which the growth of the company is constantly being measured.
HiPP Quality is Unique Among Brands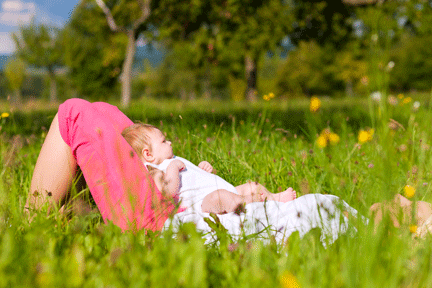 Babies need healthy food that tastes good and contains no adverse ingredients. Parents using HiPP products have access to a nutritionally-tailored and age-appropriate product line that is strictly controlled for organic quality. Special attention is paid at the raw material selection process that ensure this. HiPP's farming soils are carefully chosen and controlled. Seeds are all untreated, fruits and vegetables on the farms are allowed to mature in peace and develop their flavor. The same care is given to the organic meats HiPP produces.
HiPP uses only organic milk from farms that operate strictly according to the guidelines of organic farming. The cows are kept humanely and grazed on natural meadows, which are farmed without chemical fertilizers and without synthetic chemical pesticides. The natural feeding of livestock with grass, hay or grain guarantees best organic quality, resulting in nutrient-rich milk. This makes the HiPP Organic milk for dairy food so valuable.
The plant in Oberpfaffenhofen is powered by its own deep well of spring water that flows directly from the Alps and is up to 154 meter deep under the HiPP terrain. The well water on the HiPP site comes from a tertiary geological layer. Experts certify the water for pristine quality and the highest purity. The natural mineral occurrence in pure Alpine well water is a true natural treasure. HiPP has reduced its total water consumption from 22.8m in 1971 to 7.5m in 2011 per every 3 tons of product produced. The incredible success of their water reduction has partially been attributed to optimized production water cycles.
A Gold Standard in Quality Controls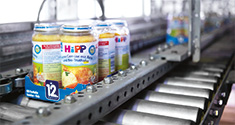 HiPP Organic milk and food is strictly controlled. HiPP production is examined and qualified by independent supervisory institutions. But in addition to these controls, HiPP oversees production quality control using an extensive system of physical and chemical standards that begin at the raw material sage. HiPP experts work closely with the raw material organic producers, from selecting soils and seeds, to monitoring cultivation and harvesting efforts. The HiPP organic "seal" on their products stands for more accurate, narrow and more reliable controls than the government provides. Their quality control encompasses a system of up to 260 controls on each vial of baby food and each batch of formula.  HiPP's quality control exceeds legal requirements and international regulations for organic production, from milk to apples, from corn and peas to grain. Only when HiPP laboratory tests show that the product is perfect does the product go to market. The result of this effort is an extremely high quality, low residue, organic baby food.  HiPP laboratory can find and identify a grain of salt in a 25 meter swimming pool.  HiPP's factory laboratory has been accredited as one of the best in Europe.
Sustainable Manufacturing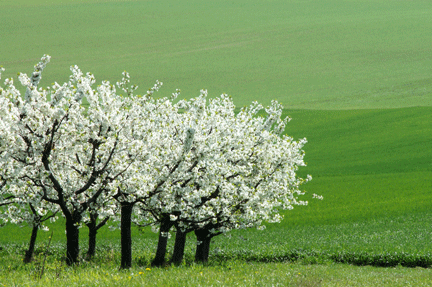 HiPP's commitment to sustainability and the natural environment is not just words on a page. A family run company since 1899, sustainability is at the heart of the HiPP corporate philosophy. As a leading manufacturer of baby food, HiPP has a particular responsibility to protect nature, the environment and the climate. In close cooperation with environmental and organic associations, the company actively support a future without genetic engineering and promulgates for the protection of biological diversity.
As one of the major food manufacturers in Europe during the 1950s, HiPP was first to introduce an environmental management system according to EMAS to improve environmental performance. Since then, HiPP's water consumption has fallen by two-thirds, and their energy consumption by more than half. 97% of all waste is now recycled at their locations in Germany, Austria and Hungary—despite production doubling size and the product range expanding to more than 260 products. All organic waste is reused for agriculture.
About 80% of the energy used in the main HiPP factory of Oberpfaffenhofen is derived from renewable energy sources. Since 2001, HiPP has operated its entire energy consumption for facility heating, hot water and steam from neutral biomass (wood chips). Other electricity used consists of 100% C0 2 neutral "green electricity" from hydropower plants—no nuclear power. And since 2000, HiPP has operated six solar panel systems generating 52,800 kWh / year of solar energy, with the intention of ever increasing solar use in the future.
The sustainability report HiPP publishes annually measures the business's annual and ever ambitious goal to protect soil and groundwater, promoting ecologically and socially fair agriculture. HiPP is certified to the ISO 14001 standard at all their sites.  Some of their innovative practices around environmental sustainability include:
Use of gentle, energy-efficient manufacturing processes to protect the air and water
Use of traditional fruits and vegetables in HiPP products
Consistent use of recycled paper to protect forests
Processing of 100% fish from sustainable fisheries (MSC) or from organic aquaculture
Support of a seed association, which works on the cultivation of old and pollinating varieties
Promotion of educational materials against genetic engineering
Testing of a model agricultural farm biodiversity for HiPP producers
Supporting non-profit associations that works for the species-appropriate, sustainable and organic beekeeping
Creating a Blühwiese of 3 acres with native plants at the site to ensure bees and other insects a suitable food supply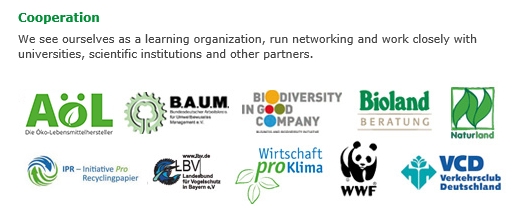 HiPP is an active member of the Business and Biodiversity Initiative, founded in 2008 at the UN Conference of the Parties on Biological Diversity. "Biodiversity in Good Company" is an association of companies that come together for the conservation of biological diversity – in the interest of the economy and society. Over 40 companies around the world are a part of this leadership initiative, with the scope of calling for biodiversity as part of the operational management system of industrial production.
HiPP regularly cooperate with NGOs and associations such as the AoeL (Association of Organic Food Producers) TREE (Federal German Working Group for Environmental Management), WWF, BUND, the German Society for Nature Conservation, Greenpeace, the federal government conservation Bavaria, organic, natural land and various scientific institutions. The protection of the climate and the atmosphere is one of the most important tasks of our time. Sustainable use of resources and protection of biological diversity are central tasks of HiPP's sustainability management.
Since 1995, all of the energy distribution in the plant Oberpfaffenhofen has been converted completely to renewable energy sources (green power, biomass, solar), 90% of which produce CO-2 neutral byproducts. In 2011 HiPP was awarded the German Solar Award for their tremendous use of renewable energies and exemplary calculation of one of the smallest CO2 footprints for a production company their size.
HiPP company suppliers and service providers are obliged to comply with HiPP's sustainability guidelines in both the direct impact area as well as upstream and downstream supply chains (eg suppliers, logistics, waste disposal).
Sustainable Packaging at HiPP
The cardboard two-packed cartons of baby milk is an intentional decision by HiPP to contribute further to environmental and climate protection by reducing plastic and tin waste. Although to a consumer this packaging may not mean much, HiPP product packaging means CO2 emissions are reduced dramatically compared to other producers. All cardboard used is FSC-certified (Forest Stewardship Council). HiPP uses FSC certified virgin fiber packaging for products that have direct contact with food, such as tea bags. This ensures that any residues, such as oil-based inks made from recycled paper, cannot lead to contamination.
HiPP does everything it can to reduce the consumption of packaging material to a minimum and to conserve resources. Each new package design must be ecologically advantageous than the previous packaging. Secondary packaging materials are made exclusively from recycled cardboards and inks are exclusively based on vegetable oils. This use of non-mineral ink is also a measure that provides maximum safety for babies and infants.

HiPPFormulaUSA.com is for informational purposes only. While we attempt to ensure product information is correct, the manufacturer may alter their ingredient lists. Actual product packaging and materials may contain more and/or different information than that shown on this website. We recommend that you do not solely rely on the information presented and that you always read and follow labels, warnings, and directions before using or consuming a product. This product may not be right for you. For additional information about a product, please contact the manufacturer directly. Content on this site is for reference purposes and is not intended to substitute for advice given by a physician, pharmacist, or other licensed health-care professional. You should not use this information as self-diagnosis or for treating a health problem or disease. Contact your health-care provider immediately if you suspect that you have a medical problem. We assume no liability for inaccuracies or misstatements about products. HiPPFormulaUSA.com is not a HiPP distributor nor officially associated with the HiPP manufacturing company. This site is for informational purposes only.