Preparing HiPP Formula
Water to HiPP Organic Formula Ratio
HiPP Organic formula is 1 level scoop to 1 fl ounce of water. Your box will indicate nutirtional values per 100ml of liquid feed; 30ml is equivalent to 1 fl oz.
You'll want to remember to put in the water before adding formula, otherwise your ratio will be slightly off.  For example, if you want to maximize efficiency, make a 7 oz bottle each time you mix formula. Fill with water a bottle to the 7 oz line, and proceed to add 7 level scoops of formula.  Your baby will drink maybe half, and within a few hours, the other half will be drank.  This is the most efficient way for parents to mix formula wasting as little as possible.
Generally speaking, your infant will eat about 1 box of HiPP every 1.5 to 2 weeks.
Why does the packaging say I need to mix the formula with boiled water? I do not need to do that with USA brands.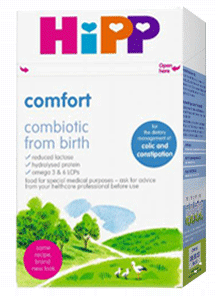 Infant formula labeling regulations are stricter in the UK than in the USA and many other European countries. HiPP is obliged to follow the recommendations by the UK government and the World Health Organization (WHO) which recommend adding water that is 70 degrees C or hotter to the formula to ensure safety. No infant milk powder is sterile and there is a small risk of contamination with harmful bacteria known as Cronobacter Sakazakii.  According to the CDC, this bacteria is extremely rare, and the risk to contract it is very low. They indicate a 1 in 24 million chance of the bacteria, and the few reported cases are usually in infants in the first weeks of life. Because of this, American-made formulas like Enfamil and Similac will state: "Ask your baby's doctor about the need to use cooled, boiled water for mixing." This is consistent with the CDC information regarding the risks associated with this harmful bacteria.  HiPP formula milks are subject to a much higher level of safety testing than is required by law, but these bacteria can be introduced from the environment during feed preparation from kitchen surfaces, from handling, and a very small risk of introduction from the powdered formula itself.
There are many other European countries, like the USA, that do not require formula to be prepared with very hot water, and would also probably advise that the preparation method with purified or artesian water is suitable, provided you feed the formula to your baby straightaway.  Please know that it is always advisable for parents to boil water for newborns in their first month of life.
Because of the CDC's understanding of this bacteria, most parents with babies who are not at risk (ie, not premies, have no metabolic disorders or infections) will treat HiPP formula just as the American brands. At the end of the day, use your own judgment and common sense. If your baby is more than 4 weeks old, healthy and not chronically or acutely sick, the chance of a problem associated with this bacteria is extremely low.
If you need to use boiled water to mix the formula, pour the water into a container that does not contain BPA, ideally a non-plastic container. Bring your water to a boil for no more than 3 minutes (boiling water for a longer period of time can concentrate metals in the water).  Let your water cool down to 70 degrees to mix with your infant milk.  If you are looking to "speed up" the preparation process – it is possible to pour the boiled water into a bowl with the formula to cool down more quickly. You can also cool a container under a running tap.
Remember that using boiled water will be very hot and so you must take care in handling the feeding bottles. Never feed any milk to your baby until you have tested it on the inside of your arm for its temperature.
If you are instead interested in using purified water for mixing the formula, most parents will purchase a high quality filtered water from a local organic grocer or a purified water provider. Water purity is essential for both yourself and your infant. Unless you know the source of your tap water and have spoken to your water district (ie, discussion of the levels of toxins in the water, such as consumer prescriptions and antibiotics), the safest bet is to buy jugs of purified, artesian, or filtered water for mixing formula.
Generally, one infant will consume 3 to 5 gallons a week of water for formula.
How long can HiPP formula sit out? Can it be refrigerated?
Preparing feeds freshly is definitely the safest thing to do and you should always prepare the feeds as instructed on the packaging.  However, if you need to prepare the formula feeds in advance there are some basic rules that you should follow –
If made-up formula is stored in a fridge: use within 24 hours  (store in the body of the fridge and not in the door)
If made-up formula is stored in a cool bag with an ice pack: use within 4 hours
If made-up formula is stored at room temperature: use within 2 hours
Virtually all infant formula brands recommend that the most you want to leave out prepared formula is 2 hours.
Prepared formula can be refrigerated for 24 to 48 hours. Keep in mind, your baby may not want to drink milk cold.
HiPPFormulaUSA.com is for informational purposes only. While we attempt to ensure product information is correct, the manufacturer may alter their ingredient lists. Actual product packaging and materials may contain more and/or different information than that shown on this website. We recommend that you do not solely rely on the information presented and that you always read and follow labels, warnings, and directions before using or consuming a product. This product may not be right for you. For additional information about a product, please contact the manufacturer directly. Content on this site is for reference purposes and is not intended to substitute for advice given by a physician, pharmacist, or other licensed health-care professional. You should not use this information as self-diagnosis or for treating a health problem or disease. Contact your health-care provider immediately if you suspect that you have a medical problem. We assume no liability for inaccuracies or misstatements about products. HiPPFormulaUSA.com is not a HiPP distributor nor officially associated with the HiPP manufacturing company. This site is for informational purposes only.