HiPP Organic First Infant Milk Stage 1
 About HiPP Infant Milk Stage 1: The Best from Birth onward
HiPP Organic Infant Milk contains important prebiotics and omegas, but doesn't contain any of the questionable additives of the brand names like Enfamil or Similac, and no brown rice syrup like the US Organic formulas.  HiPP uses the finest organic ingredients in milk, which means no chemical pesticides and no GM ingredients.  The company has been researching breastmilk for over 50 years, so you can rely on their formula including the ingredients your baby needs to grow strong and healthy (like iron, vitamins A, C and D and PRÆBIOTIK® oligosaccharides (GOS).  Their infant milks also contain added Omega 3 & 6 LCPs (DHA and AA). Suitable from birth onwards Hipp Organic Infant Milk is a gentle organic formula that you can use to supplement or replace breastfeeding. It's suitable from birth, nutritionally complete and will satisfy even the hungriest babies. It contains added vitamins, minerals and Omega 3 and 6 for healthy brain development and a healthy immune system. Hipp Stage 1 also contains PRAEBIOTIK® to make it easier to digest.
HiPP formula does not contain nucleotides because babies can make them for themselves from amino acids; so they are not essential to their diet. For this reason, and since they are not essential, organic regulations mean they cannot be added to the milks. Rest assured that your baby's nutritional requirements are being met in using this formula and if your baby is happy and content there is no reason to change.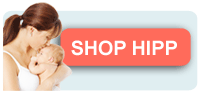 Packaging and Cost Comparison
Larger than most US regular baby formula package, an 800 gram box of HiPP Infant Milk 1 makes approximately 192 oz. of baby formula. Since it is exported all over the world, there is some confusion about the various types of HiPP sold. HiPP is manufactured for many countries, in other languages and with other ingredients.  Parents will want to purchase the British version of the product, which is the gold standard, starch-free version of HiPP formula with the healthy prebiotics. This product is labeled "HiPP Organic Combiotic" as pictured, and comes in an English box. The product from Germany labeled "Bio" is a German line that does not contain the Combiotic ingredient.  The German Combiotik as well as several other lines made for other countries contain corn starch (for a creamy consistency).  Each country's health administration regulates the specific ingredients contained in the formula.  The British formulation is considered the best overall HiPP formula milk.
There are two 400 gram bags in each box of HiPP formula UK. If you think it's more expensive than American brands, think again. 1 box of HiPP equals 1 and 1/3 bins of Gerber formula, a non-organic brand.  When you consider that Gerber Good Start costs  $30-$40 per bin on average and a box of HiPP at $40 for 800g, HiPP Stage 1 costs are comparable but provide you an EU Certified Organic standard.
Superior Quality You can See and Taste
Boxes and advertising can make a lot of claims, but the true test of the formula's quality that you buy is in the effect it has on your baby.  The most important of these effects is that HiPP formula results in yellow stools that are closer to breastfed babies.
HiPP formula tastes good, and you can drink it yourself.
Unlike most formulas on the market, HiPP formula milk taste and smell good.  This is telling, as our sense of taste and smell are natural defenses against chemicals or unwanted ingredients. When you taste the formula you are buying and giving your baby, does it taste okay?  Does it smell okay?  Taste buds, evolved over hundreds of thousand of years, don't lie.
Another important change from US brands is that HiPP formula does not stain clothes.  Have you ever questioned what is causing the yellow staining you see on your baby's onsies?  HiPP's Organic formula does not contain dyes and additive substances that stain clothing.  This is not only a great convenience  when bottle-feeding, but an important distinction in the quality and composition of this formula.
First Infant Milk and Follow On Milk are enough for your baby's feed until 1 year.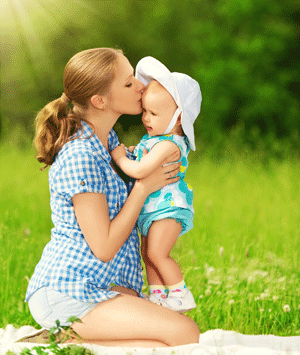 Many babies do not need to switch from the First infant milk to any other milk, as the First infant milk will satisfy their needs for the first 6 months. If you would like to supplement with extra iron beyond 6 months, HiPP makes a Stage 2 formula (what is called "Follow On milk") suitable from 6 months onward, as well as a Stage 3 from 10 months into the first year.  HiPP Stage 2 Follow On Milk will also keep babies fuller from 6 months to  one year old and contains a half gram more of iron.  HiPP has closely adapted a line of milks to correspond to the needs of your infant at each stage of life.
Stricter than EU organic: The HiPP Organic Guarantee stands for purest quality.
Babies and toddlers are highly sensitive, so organic food is the ideal choice for their diet. Statutory organic quality marks alone offer no guarantee that raw materials are genuinely free from pollutants.  HiPP products are rigorous tested, applying standards that extend beyond the legal norm for organic foods. They even check the previous crops grown on their suppliers farms and ensure farms are located far away from any potentially harmful pollution. HiPP analyzes their ingredients for over 1,000 different substances. Only the products that pass the comprehensive inspection system earn the HiPP Organic Seal of Quality.
HiPP is an internationally recognized leader in a number of European Certified Organic baby
foods.  HiPP products are exported to over 50 countries.  They are the largest processor of organically produced raw materials world-wide, and are particularly committed to supporting sustainable agricultural methods. The name of HiPP has stood for ecological agriculture and sustainable values for over 50 years. The company works closely with environmental and ecological organizations, supporting a future free from genetic engineering and playing an active role in the "Biodiversity in Good Company Initiative" to protect biodiversity.
HiPP was the first major European food producer to introduce an EMAS-based environmental management system, and continuously improves its ecobalance. Since the system was implemented in 1995, the company has succeeded in reducing its water consumption by two-thirds and its energy consumption by over one-half. 97 per cent of all waste is now recycled, and the HiPP sites in Germany, Austria and Hungary operate carbon-neutrally even though production has doubled and the company's product range has expanded to over 260 different products, including baby foods, baby bath and body soaps, and infant oils and lotions.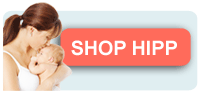 HiPP Organic Milk's Strict Controls
Babies need healthy food that tastes good and has no adverse ingredients. HiPP Organic formula is strictly controlled and verified by independent supervisory institutions. HiPP controls all their products on several physical and chemical parameters that are more stringent than is required by legislation. HiPP uses only milk from farms that operate strictly according to the guidelines of EU organic farming. The cows are kept humanely and grazed on natural meadows, which are farmed without chemical fertilizers and without synthetic chemical pesticides. The natural feeding of livestock with grass, hay or grain guarantees the absolute best organic quality, resulting in nutrient-rich milk that is not overly processed.
HiPP First Infant List of Ingredients and Nutritional Values
Ingredients and Nutritional Values for HiPP First Infant Formula (source: hipp.co.uk, 2023)
Organic skimmed milk, organic whey product, organic vegetable oils (organic palm oil❤, organic rapeseed oil, organic sunflower oil), organic lactose, organic galacto-oligosaccharides from organic lactose, fish oil1, potassium chloride, Mortierella alpina-oil, choline, sodium citrate, L-phenylalanine, calcium salts of orthophosphoric acid, L-tryptophan, magnesium carbonate, calcium carbonate, L-histidine, zinc sulphate, ferrous sulphate, vitamin C, vitamin E, niacin, pantothenic acid, cupric sulphate, vitamin A, vitamin B1, potassium iodate, vitamin B6, folic acid, sodium selenite, vitamin K, manganese sulphate, vitamin D, D-biotin, vitamin B12
❤from sustainable organic production, certified by independent authorities
1contains DHA sourced sustainably
Allergy advice – See ingredients shown in bold.
Complete Ingredients Lists for HiPP Ready to Feed, Hungry Infant, Follow On Milk, Good Night Milk, Growing Up Milk 3, Growing Up Milk 4, Comfort Milk, and Anti-Reflux Milk.
Dietary and Allergy Information
Organic. HiPP Organic infant milk is not suitable for vegetarians. Contains Fish. Contains Milk. 
Nutritional Values
 Combiotic First Infant Milk (Stage 1)
 Age
0-12 months
Nutrient
Per 100ml feed
100ml=13g HiPP +90ml water
1 level scoop=4.3g HiPP
Energy
277kJ/66cal
Fat
3.5g
   saturated
1.2g
   unsaturated
2.3g
Carbohydrate
7.3g
   Of which lactose
7.1g
Fibre (Galacto-oligosaccarides)
0.3g
Salt
0.05g
Protein
1.25g
   Casein
0.6g
   Whey
0.8g
Sodium
20mg
Potassium
70mg
Calcium
50mg
Phosphorus
27mg
Chloride
45mg
Magnesium
5.0mg
Iron
0.5mg
Zinc
0.5mg
Copper
45mcg
Iodine
15mcg
Manganese
7.5mcg
Selenium
1.3mcg
Flouride
<5mcg
Vitamin C
10mg
Vitamin A
70mcg
Vitamin D
1.2mcg
Vitamin E
0.9mg
Thiamin (Vit. B1)
0.06mg
Riboflavin (Vit. B2)
0.10mg
Vitamin B6
0.04mg
Vitamin B12
0.15mcg
Folic Acid
10mcg
Pantothenic Acid
0.50mg
Vitamin K
5.0mcg
Biotin
1.5mcg
Choline
11mg
Inositol
3.9mg
Niacin
0.4mg
Linoleic Acid (omega-6)
0.6g
a-linolenic acid (omega-3)
0.07g
LCPs
20mg
     DHA
7.0mg
     AA
12mg
L-carnitine
1.1mg
Choline
11mg
Inositol
3.9mg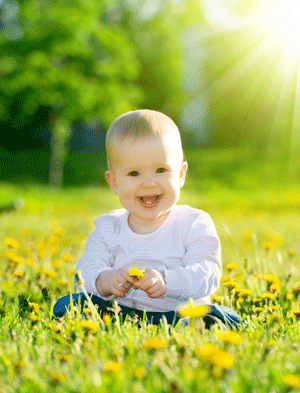 For a complete distribution of Amino acid composition, view the HiPP Stage 1 Milk Powder Datacard.
Manufacturer Contact
HiPP UK Limited
165 Main Street
Greenham Business Park
Newbury
Berkshire
RG19 6HN.
Packaging
Box, English
HiPPFormulaUSA.com is for informational purposes only.  While we attempt to ensure product information is correct, the manufacturer may alter their ingredient lists. Actual product packaging and materials may contain more and/or different information than that shown on this website. We recommend that you do not solely rely on the information presented and that you always read and follow labels, warnings, and directions before using or consuming a product. This product may not be right for you. For additional information about a product, please contact the manufacturer directly. Content on this site is for reference purposes and is not intended to substitute for advice given by a physician, pharmacist, or other licensed health-care professional. You should not use this information as self-diagnosis or for treating a health problem or disease. Contact your health-care provider immediately if you suspect that you have a medical problem. We assume no liability for inaccuracies or misstatements about products. HiPPFormulaUSA.com is not a HiPP distributor nor officially associated with the HiPP manufacturing company. This site is for informational purposes only.